We've got some suggestions for you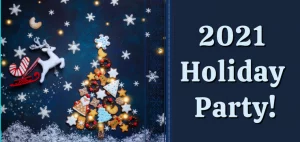 It's that time again, that agenda item that appears at the Monday morning meeting and elicits groans, and responses from colleagues like "I'll be out of town" "I've got a thing" "I'm wrapping up a HUGE project I can't possibly help".
Item 1 – Organize the holiday party!! Just to make you smile here is a little something from The Office Party Planning Committee https://www.youtube.com/watch?v=Y4NtSOz8BxI
If your heart drops and you experience a sharp intake of breath at the mere thought, we've got a list of themes for you to try. Some are family friendly, some appeal to adults only, casual or sophisticated.
Food tour – dishes from around the world, possibly holiday themed from different countries. Think yule log, baked ham, Christmas pudding, coquilles St Jacques, sachertorte, kulkuls, akoho sy voania, poi – Ok so you get the idea. Ask your colleagues about traditional ethnic dishes that they love to eat and then try to include those on the menu.

Christmas detox brunch – healthy brunch for anyone who is suffering the effects from the night before. Think green smoothies, and guided meditation. Chair massage and gentle music. Sounds like the perfect low key celebration.

Fill Santa's Sleigh – invite every guest to bring an unwrapped toy, book or non-perishable food item to donate to local toy or food drives. Have Santa make an appearance for photo opportunities. Perfect for family parties.

A wine Winter- play blind wine tasting games, with wine prizes for accurate answers. Invite every guest to bring a bottle that is wrapped in brown paper, so the label is not visible. Take it a step further and include fortified wines such as port, sherry or madeira.

Craftstravaganza – offer craft tables with everything needed to make ornaments or decorations, with instructions as a way of entertaining younger guests, include an empty tree for people to decorate with their creations if they wish.

White Elephant – popular with all ages. Set a dollar limit on the value of each gift. As guests arrive, they place a wrapped present under the tree and pick a number out of the hat. Numbers are drawn randomly to allow guests to select a gift. The fun part comes when they start to steal gifts chosen before their own turn, rather than selecting a new gift from the pile that is left.

Winter Luau – this theme combines the dressing up and decorating portion with hula skirts and leis and lends itself to music and food as well. Luaus are colorful and popular events at all times of year, and very enjoyable.

Then there is always Nights in Morocco …. Not your grandmothers Christmas party!
Whatever you decide on keep it classy! Naturally you want to be the one who tells the Planning Committee that you've found the perfect (classy) venue and the perfect theme for said party! Talk to us today and host your party at The Virginia Cliffe Inn. Email us events@vacliffeinn.com or call 804 382 0500