We have some great news for you in a year that has been so sad and fearful for many, CHRISTMAS IS NOT CANCELLED THIS YEAR! Even better than that CHRISTMAS AT GRANNYS IS NOT CANCELLED EITHER!
However, we cannot do it without you, so we want to share our news with you, and tell you all about what we have planned.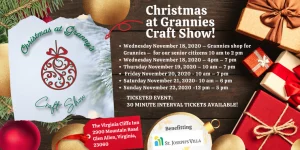 Support Local Crafters and Vendors!
Bring your friends and family and support the dozens of local and regional crafters and vendors who have been using this lockdown to design, paint, build, bake, knit, crochet, sew, write, make and create beautiful and unique items for sale. You will find an array of goods for everyone on your gift list, plus Thanksgiving treats and Granny's Specialty Spiced Tea.
New for 2020
1. More dates have been added Take time to visit on the day that suits you. The show is open to the public from Wednesday November 18, 2020 – Sunday November 22, 2020. 2. Grannies and Seniors special times Honoring our own Grannies is so important to us, that we have added a special date and time for Grannies and seniors where we can offer you more personal attention and a slower pace. The "Grannies Shopping at Granny's" date is November 18, 2020 from 10 am to 2 pm. Click here for details: https://www.eventbrite.com/e/christmas-at-grannys-2020-grannies-shop-for-grannies-tickets-124724758109 3. This is now a ticketed event Select your own timeslot and we will take care of monitoring crowds for social distancing. This will make for a much more comfortable shopping experience than going to a mall. Here is the link for booking tickets: https://linktr.ee/christmasatgrannys?fbclid=IwAR1Ct86aMvAlurTdhF-t9iXucJCuJE5iHuvCXk8AW9kqwkqrA2fYHE2a7oc
Visitors will receive their own shopping bag to keep for ease of gathering up purchases.

Our crafters will be on hand throughout the event to help you find just the right gift and to tell you about their creative process.

This is a family event, open to the general public, with something special for everyone.

Food trucks will be on site, so you won't go hungry!
4. COVID conscious event
We have created ticketed timeslots in order to maintain optimum visitor numbers, without exceeding guidelines. The venue is continually sanitized for your comfort, staff will be masked, and we ask that visitors bring a mask to wear.
5.Your $5 ticket purchase supports the program for autistic children at St Joseph's Villa.
The Virginia Cliffe Inn continues this time-honored tradition of opening the house to our community, and supporting our selected non-profit St Joseph's Villa with proceeds from the event.