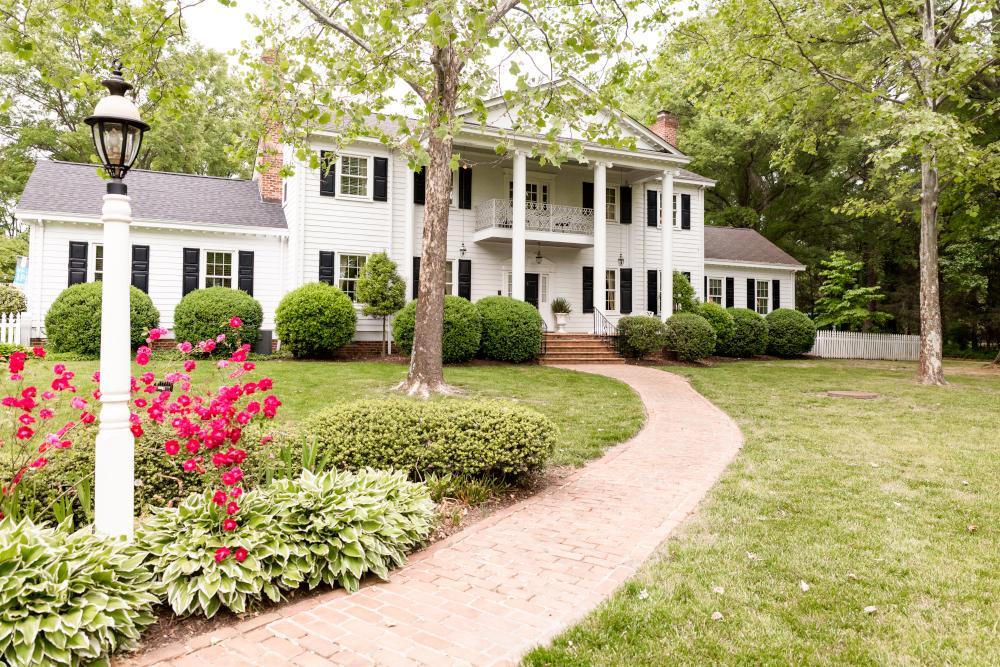 Virginia Cliffe Inn offers several wedding packages, rental equipment, decorations, and various client services. Our packages start at $3,600, are designed to satisfy your needs, and are easily tailored to guarantee your vision is met! With fewer restrictions compared to most venues, we allow clients to select and contract with outside vendors (including caterers) and encourage creativity, so you have the freedom and flexibility to decorate and utilize each space as you wish!
The venue consists of an indoor-outdoor combination event space that includes The Clifton Cottage, 30'x50' Pavilion, 40'x40' Tent, and two 10'x12' Bar Tents surrounded by an inviting lawn, large trees, lush gardens, and a pond with swans. The Cottage and Pavilion are temperature controlled and the tented areas include side panels from mid-November to mid-March. The Clifton Cottage has a kitchen, living room, three restrooms, and a dressing room with a bathroom on the second floor.
We had our wedding ceremony and reception at the Virginia Cliffe Inn and it was beautiful! Everything was truly perfect. The flowers, bushes, and cherry blossoms around the venue were all blossomed and everything was green. Best weekend of my life 🙂
My wedding was fantastic, and beautiful plus spending the night at the inn was very comfy and breakfast the next morning was so yummy!
I can not even begin to describe how wonderful and amazing everyone at the Virginia Cliffe inn was for our big day! We lost our venue the Monday before the wedding… 6 days before our wedding we reached out to the VA Cliffe Inn and they hit the ground running! We planned the whole thing in a week! Not to mention the DJ quit the morning of and Jenn was amazing and tried to handle everything to take a load off of myself and new husband! Everything went as smoothly as possible considering. I can't thank them enough!
The Virginia Cliffe Inn was a wonderful venue to have my wedding ceremony and reception. The venue was beautiful, and the whole experience was smooth because of our point person, Amanda. I could not have been happier with her professionalism and service. 
 Throughout the planning process, Amanda took the time to answer all of my questions and reassure my concerns. She was approachable, transparent and helped me articulate and identify my priorities and vision. Thank you for everything, Amanda, and the whole crew at the Virginia Cliffe Inn! Our wedding day would not have been as good without you.
I can not say enough about this venue after searching endlessly a year prior I came upon this inn in a google search and I am so glad I did. From the tent to the lights to the swans to the cute rooms I loved every thing about this venue. The owner is so sweet and so helpful. We were fortunate enough to rent this inn out for the entire weekend to make it easier on the bridal party and everyone was great. And the price was amazing for everything you get with this venue. Don't choose a place until you visit the inn!
Virginia Cliffe Inn definitely has southern charm! The exquisite lighting enhanced the evening wedding. We had so any compliments about the venue from guests who didn't even know that Virginia Cliffe Inn existed. Janice and her staff were very accommodating. We were delighted we found them!
LOVED the Virginia Cliffe Inn for our wedding venue. It was more than perfect. From the several different areas to choose from to say our vows to a total plan b if it were to rain, this place was magical!
As soon as I arrived at the Virginia Cliffe Inn, I knew it would be the venue for us. I was impressed with the beautiful tent structures, which meant we wouldn't have to worry so much about renting a tent or bad weather. The part that really sold me, as cheesy as it may seem, was the pair of swans that live on the premises, aptly named Romeo and Juliet. Also, the rose garden and beautiful landscaping was so charming. Jen, who is well versed in various aspects of wedding planning was gracious in making suggestions and was very open to any requests we made. Furthermore, she has experience in making flower bouquets, so we also booked her for our bridal party flowers and boutonnieres, which turned out beautifully. They do have a preferred catering list, and we used Deep Run Roadhouse. Also, we had to acquire a Special Banquet license and liability insurance, which is to be expected. The event coordinator was named Mary Lee. I cannot even begin to describe how sweet, wonderful, and hardworking this woman is. From the moment we arrived on Friday evening all the way through to the end of our wedding reception, she was on top of it! Overall, this was the most wonderful experience of my life. Everyone knowing their jobs so well really made the planning process very painless. I cannot recommend this beautiful venue enough for your wedding.
My husband and I had our wedding here on 8/15/2020. It was such a beautiful venue for us to celebrate our special day here. They were very responsive and helpful through the craziness with COVID-19 regulations. They helped make sure we were still able to have our special day.
Jen Clifton went above and beyond coordinating our wedding. The Virginia Cliffe Inn is a beautiful venue and the price was perfect for our intimate wedding. I would recommend this bed and breakfast for any special occasion.