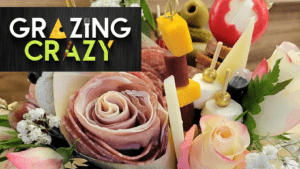 When: 𝗪𝗲𝗱𝗻𝗲𝘀𝗱𝗮𝘆, 𝗠𝗮𝘆 𝟭𝟬𝘁𝗵
Time: 𝟲 𝗣𝗠 – 𝟴 𝗣𝗠
Why not try a little something different? Grab your favorite person and learn how to create a beautiful charcuterie bouquet, that is not only a marvelous centerpiece but it is also delicious and edible.
Please join @𝗴𝗿𝗮𝘇𝗶𝗻𝗴𝗰𝗿𝗮𝘇𝘆 at the fabulous @𝘃𝗶𝗿𝗴𝗶𝗻𝗶𝗮𝗰𝗹𝗶𝗳𝗳𝗲𝗶𝗻𝗻.
What to expect?
🧀 Enjoy charcuterie tasting . (Come Hungry)
🫒 Get an opportunity to see for yourself what set GC apart from others.
💡 During class, you will learn tips and tricks for preparing your own beautiful charcuterie.
🫰 Expert instruction and charcuterie details
🍸 Unlimited Mocktails
So, what are you waiting for, indulge and learn all about charcuterie.