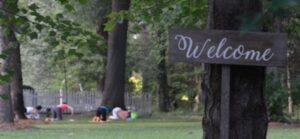 Weekly Yoga – Mondays at 5:30 p.m.
Bring your yoga mat or a towel and enjoy the beautiful scenery at the 𝗩𝗶𝗿𝗴𝗶𝗻𝗶𝗮 𝗖𝗹𝗶𝗳𝗳𝗲 𝗜𝗻𝗻 while enjoying a nice yoga flow on our front lawn with Laura from Guiding Tree Yoga.
This 60-minute yoga practice is accessible to every 𝗕𝗢𝗗𝗬. We even have bathrooms and changing rooms if needed! This is a pay what you can 𝗮𝗹𝗹 𝗹𝗲𝘃𝗲𝗹𝘀 yoga class!
This is a weekly event, every 𝗠𝗼𝗻𝗱𝗮𝘆 𝗮𝘁 𝟱:𝟯𝟬 𝗣𝗠 – Register today.
https://campsite.bio/virginiacliffeinn